The art world has changed. No more afternoons at the museum, no more gallery-hopping and, perhaps most upsetting, no more free beers on a Thursday evening. Many say that the COVID-19 pandemic has accelerated what was already happening: a move across the board from the physical to the online world. Below, I offer my thoughts on how successful this move has been for two cornerstones of the physical art world: a museum exhibition and a commercial gallery show. I also look into how the phenomenon of the online art fair could deepen the divide between large and small galleries, and how one gallery is using the internet to resist this imbalance.
My immediate reflection on this 40 minute video tour is that it takes away my agency as a viewer. Until now, I hadn't realised quite how much I have come to enjoy making my own path around an exhibition. Often, when comparing notes with others afterwards, I'll find that we enjoyed what feel like completely different shows. I had been looking forward to sauntering around this one, which demonstrates Picasso's incandescent creative drive with examples of his resourceful use of paper, in my own time, happily choosing where to linger and when to move on. Instead I find myself on a whistle-stop tour where artworks and texts appear and disappear in a sequence that leaves me passively taking in the exhibition like I would a film. Although this format might not let me enjoy the exhibition itself as much as I might have done in person, I'm glad I experienced it this way. By swapping the vast rooms of Burlington House for an embedded video, I have learned how much of the enjoyment of a museum visit comes from the freedom to wander; a freedom that I won't take so much for granted in the future.
Installation view, courtesy of David Parry/Royal Academy of Arts
For this all-women group show curated by Katy Hessel of
The Great Women Artists
, Mayfair's Timothy Taylor gallery has opted for the popular viewing room format. Unlike the Picasso, this is a selling exhibition - a cynic might go as far as to call it an online shop - and the inclusion of prices displayed alongside the images and information on each artwork makes this clear. Here, I'm in the driver's seat: I can explore as freely as I would in a physical gallery, lingering to my heart's content on certain works whilst scrolling quickly past others. And for the most part I find myself doing the former, because much of the work is wonderful. Vija Celmins' seascapes paradoxically blend photorealism with abstraction, Sanam Khatibi's dreamlike landscape Underneath the Southern Skies depicts perfectly my imagining of an Edenic post-COVID world and Diane Arbus' photographs bring me back down to earth with a strong dose of social realism. However, I struggle to give these works the consideration that they deserve. In an existence filled with meaningless scrolling, it's hard to slow down and engage with the works in the virtual viewing room as I would in an actual viewing room. In a gallery, there are plenty of physical prompts telling me where I am and what I'm looking at. Here, where all that remains are the artworks themselves (or digital reproductions of them) I need to continually remind myself that what I'm scrolling through should be treated differently, engaged with more seriously than the content on my Facebook feed.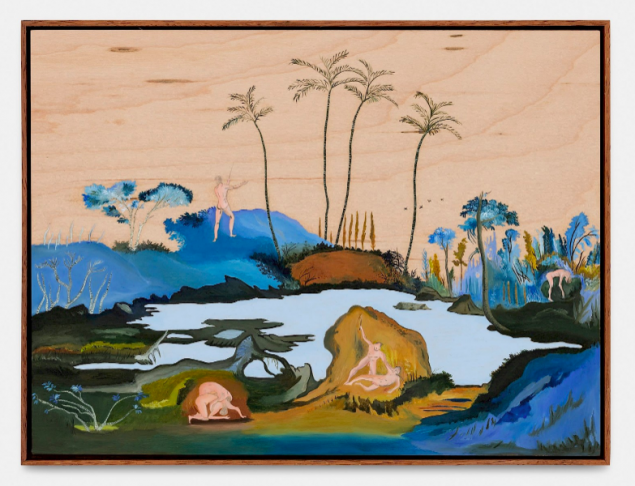 Sanam Khatibi, Underneath the Southern Skies, courtesy of Timothy Taylor
One of New York's biggest art events, planned for this month, has been moved from the Rockerfeller Centre to the internet. This is bad news for the city's art and fashion cognoscenti but good news for me, and many others who can now enjoy browsing over 200 virtual viewing rooms remotely as part of the e-fair. Like Timothy Taylor, the principle ambition of dealers showing at Frieze is to make sales, which I worry will come more easily to some than others. Last month, when Art Basel conducted what would have been its Hong Kong edition online,
director Marc Spiegler commented
"the galleries that did quite well were the ones that did a good job of promoting their online viewing room presentations." In other words, mega-galleries with access to large networks of collectors succeeded whilst smaller galleries, which struggle to stay afloat at the best of times, didn't do so well. However, perhaps the story will be a happier one for the small dealers at Frieze. In an effort to level the playing field, the fair has announced "Frame", a new area showcasing an impressive roster of young galleries showing solo artist presentations. After enjoying Nicholas Pope's much talked about installation with the gallery at Frieze London last October, I'm looking forward to the Sunday Painter's e-booth here, featuring Cuban painter Dalton Gata. It will be interesting to see whether Frieze can break away from the dynamics that were prevalent at Basel and use their platform to help new dealers secure much-needed sales.
Dalton Gata's 2019 exhibition "The Gaze is Downstairs," courtesy of The Sunday Painter
A month ago, I speculated that this period might see mega-dealers "taking on a paternalistic role and making sure their more modest neighbours remain supported." At the time, I didn't know quite what this would look like, but David Zwirner's Platform: London seems to represent a step in this direction. Having sold well through its online viewing room functionality before lockdown began, the dealer is now handing the platform over to 12 smaller London galleries. I enjoyed this exhibition hugely. The galleries and artists on show are varied and interesting, and the design of the page somehow makes me feel like I'm in a gallery. Something in the considered combination of artworks, text related imagery causes me to give each offering its due attention instead of the cursory scroll-through I'm used to giving most online content. You might ask how much this online real-estate is really worth. Is Zwirner just cashing in on an opportunity to garner some good PR at a low cost? Unlike in the physical world, offering a "room" to another gallery
online
doesn't reduce the amount of space Zwirner has to show his own artists. Indeed, elsewhere on the website, another viewing room showing work by Zwirner-represented Harold Ancart's sculptures has sold out. Scepticism aside, I'm glad things like Platform: London are beginning to happen. It sets an important precedent: the art world is a complex organism which needs small independent galleries just as much as (if not more than) it needs mega-dealers. If we want to see the art world in good health when this is over, we need to ensure that everyone is given a platform and an opportunity to sell under these difficult conditions.
Celia Hempton, Untitled, 2nd May 2019, Courtesy of Southard Reid