Our Curator at Large, Hector Campbell, has been scouring every corner of London to find the best up-and-coming artistic talent. Hector's recommendations take us to Annka Kultys Gallery in Hackney, Freelands Foundation in Primrose Hill, Assembly Point in Peckham and The Dot Project in Holland Park. Discover Hector's highlights below and if you're in London over the next few weeks, pop by to see these exciting shows in person.
1. DOMINIC DISPIRITO, PIE 'N' MASH, ANNKA KULTYS
Following his successful debut solo exhibition 'In the Garden, Council Housed and Violent' at Annka Kultys last year, Dominic Dispirito returns with a new series of acrylic on Jekyll linen paintings that continue his exploration into the East London tradition of Pearly Kings and Queens.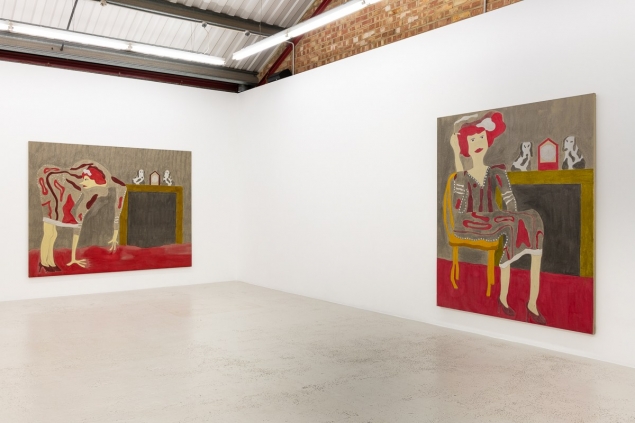 The works in Pie 'n' Mash follow Jackie, the latest of a celebrated lineage of 'Pearlys' that dates back to the latter half of the 19th century, a character through which recent Slade School of Fine Art MFA graduate Dispirito can examine the culture that surrounds his working-class background.
Incorporating references to cockney rhyming slang within some of the works titles ('It's all gone Pete tong', 'Sat ere all on me jack jones' etc.) Dispirito offers sophisticated, satirical comment on the British class system, as well as his personal history of drug and alcohol addiction. 'Pie 'n' Mash' runs until April 13th.
2. FAULT LINES, FREELANDS FOUNDATION
Freelands Foundation's latest group exhibition 'Fault Lines', curated by Edward Ball, features Jonathan Baldock, Alice Channer, Angela de la Cruz and Holly Hendry, artists spanning four consecutive decades, whose work all addresses the sculptural metaphors of the fault line.
Royal College of Art MA graduate Baldock presents work from his continuing 'Maske' series of works, ceramic reliefs that hint at figuration through the careful use of folds, creases and tears, a visage appearing with the addition of quotidian objects onto and into the sculpted surface.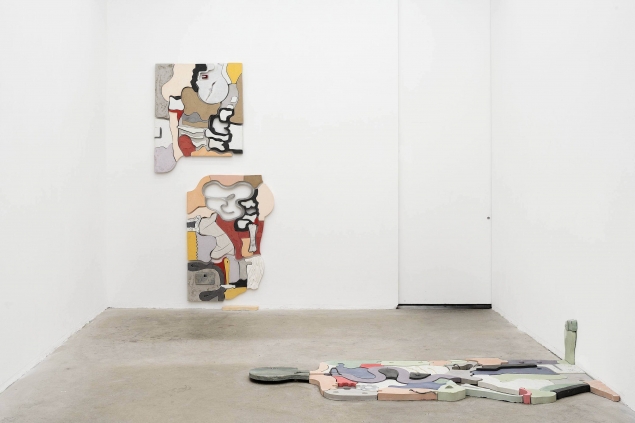 Hendry, a more recent RCA MA graduate, similarity combines a variety of materials, often concrete, jesmonite and found objects, to create jigsaw-like constructions, their joints and fault lines visible, that resemble common medical diagrams. 'Fault Lines' runs until April 14th.
3. CHARLIE GODET THOMAS, DIM LIT, ASSEMBLY POINT
British-Bermudian artist and Royal College of Art Ma graduate Charlie Godet Thomas' "Illuminated Manuscripts", large wall assemblages, form part of his latest solo exhibition 'Dim Lit'. Merging image and text within depictions of abandoned urban landscapes, Thomas presents scenes of contemporary decline, that simultaneously echo a dystopian future and a forgotten past.
Thomas's interest in found poetry is also evident throughout the exhibition, especially in the neon work 'Fool's Gold', which on first glance appears to be a typical 'Cash for Gold' sign but upon further inspection has been 'broken' to reveal a more wry message. 'Dim Lit' runs until April 20th.
4. SLEEP ON THE WIND, THE DOT PROJECT
Curated by exhibiting artist Ralph Hunter-Menzies, 'Sleep on the Wind' also includes the work of Daniel Jensen and Terencio Gonzalez, selected for their attention and approach to mark making.
Each of the artists' cultural backgrounds are evident within their works, with French Gonzales display of vibrant sun-bleached swathes of colour punctuated by random, almost accidental, marks, London based Hunter-Menzies use of common graffiti removal techniques and Swiss Jensen balance and contrast of both managed and free marks. 'Sleep on the Wind' runs, by appointment, until April 30th.