Diana Rosa Latourt is a Cuban artist based in Canada who paints groovy figurative works. Tropical elements lend her paintings an exotic quality that is reminiscent of her Cuban heritage, where she was closely connected with the natural landscape around her. She is interested in how humans interact with the environment, animals and each other. The artist uses the versatile medium of acrylic paint to explore this.
Diana's style is simultaneously youthful and elegant, spontaneous and sophisticated. The artist showcases her work regularly at art fairs and exhibitions in the UK and Canada. She has also exhibited pieces in Hong Kong. We catch up with Diana to find out more about her process and exploration of human relationships.
What inspired you to become an artist?
My great-grandfather, Gerardo Fernandez, was a Cuban musician and music teacher. Growing up and witnessing his passion for the Arts inspired me to become an artist.
What drew you to studying Art History at uni rather than Fine Art? And what impact has this had on your artistic practice?
I studied Art History at the Oriente University in Cuba and worked at the Contemporary Art Centre in Holguin, Cuba, as a curator for 7 years. This had a massive influence on my artistic practice. I then emigrated to Canada, where I explored the relationship people have with the urban environment.
What inspired your groovy and caricaturesque style? How did this develop?
I'm influenced by modern masters like Matisse, Paul Gauguin and Henri Rousseau. These artists inspire me to envision and create new aesthetics that use shape and color in contrasting ways and without boundaries. To be raw and experimental has shaped my style.
Your art is reminiscent of your Cuban roots. What specifically about your heritage has influenced your art?
My work has the dynamism, rhythm and color of the Islands and the Caribbean. It comments on the tropical landscapes full of light and exotism and the nostalgic of the elegance of the palm tree.
Your work explores human interactions with the environment, animals and one another. What about this interest you?
I explore the relationship between humans, animals and the environment because we live in and share the same world. I love my work to be symbolically rich and encapsulate the fantastic scenery the world has to offer. I like to think my art is magical, to explore human nature, the possible, the impossible and to investigate the beautiful as well as the odd is quite special. I wish to illuminate the norms in an environment and reveal it's universal and layered patterns.
What drew you to working with acrylic paint?
Acrylics are water-based and very quick to dry, they are not reliant on any toxic solvents and can be applied to a wide range of surfaces. This means acrylics are versatile and allow me to experiment regularly in my work. When dry, acrylics are lightfast and permanent, and the surface becomes strong and flexible.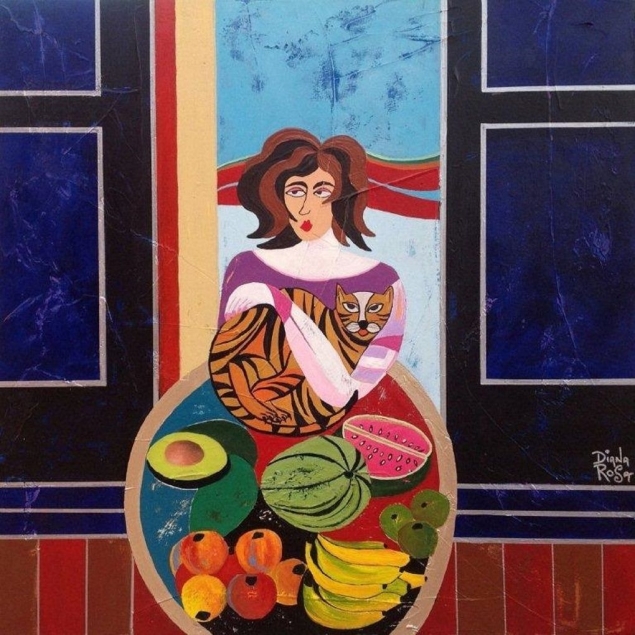 What are your ambitions for 2019?
In 2019 I would like to create something inspiring - to make a statement that leaves lasting impressions on people's minds and souls.