Andy Gotts is one of only a handful of British photographers to have been recognised by the Queen. In 2012, Andy was awarded an MBE for services to Photography and Charity. The Norfolk-born artist has captured some of the biggest screen stars of our generation. But it's not just the celebrity subjects themselves that make Andy's portraits stand out; it's the stories behind the shoots that give his works their character.
Andy photographs his star sitters in their homes, where they'll be more comfortable. Working without any assistants means Andy can keep the shoots intimate and encourage his subjects to open up. In each case, it's the character behind the all-familiar face that he's after. Andy's portraits do more than depict – they reveal the unseen.
We caught up with Andy to discover why he chose celebrity portraiture and to hear some of his favourite on-the-job stories.
What kind of photographer did you set out to be? Have you always shot portraits?
The only kind of photographer I wanted to be was a celebrity photographer. Even regular portraiture doesn't really interest me. It's the people I meet during my shoots that make my job worthwhile, especially since I'm a movie buff.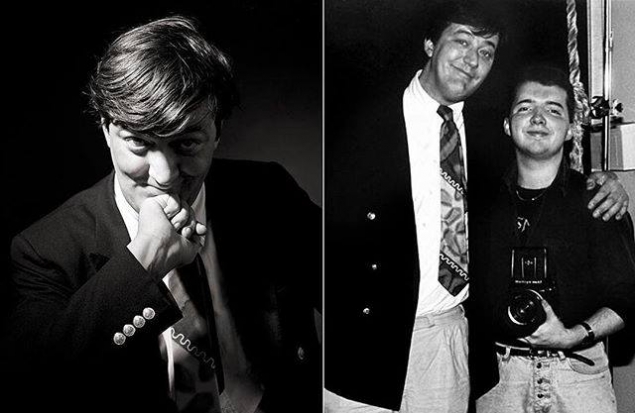 There are some landscape photographers who only like to shoot mountains, and there are others who just like to shoot deserts. Some portrait photographers like the documentary style approach. I stick to my clean and clinical celebrity portraits.
What's the most important thing for you when shooting a famous face? How do you bring out a person's real character?
When I shoot, it's just me and the person I'm shooting. No assistants or entourage around. This makes things more relaxed; so when I spend time chatting to the sitter beforehand, it's very intimate. I can gauge what mood they're in and work the photoshoot to complement the way they're feeling. And I don't over-direct the shoot. I let it unfold through conversation.
Who has been the most interesting person you've shot?
As I've already mentioned I'm a movie buff, so to meet icons of the big screen is always a thrill. Paul Newman and Clint Eastwood were two subjects that took many years to set up – and both shoots were a dream come true.
Which work are you most proud of?
Probably the great Tony Curtis. We shot at his home in Henderson, near Las Vegas. We had a great afternoon of conversation and laughs. The shoot went wonderfully. Sadly Tony died three days after our shoot, so I captured the very last portraits of the wonderful man.
Can you give us a couple of favourite stories behind your photographs?
I shot George Clooney at his beautiful house on Lake Como. When I arrived, breakfast was being served on the veranda – it seemed more like a five star hotel then a private residence. After breakfast, George disappeared to find a space that had a plain white wall for the shoot. I had to maneuver my equipment around three obese (live) ducks in the hallway...
My tripod hit a bookshelf and a large atlas dislodged from the shelf and plummeted onto a duck. In a moment of panic – I had an unconscious duck on my hands – I hid it behind the bookshelf. George re-emerged wearing a pirate's hat, which he'd worn at a dinner party the previous night. When I pointed out what a fool he looked, George started roaring with laughter... there was my photo! Not long after the shoot there was a muffled quack from behind the bookshelf and a dazed duck waddled out.
Penelope Cruz was a dream and every inch as beautiful in the flesh as she is on film. I was all set up and ready to shoot when Penelope arrived. I could hear muffled talking and laughing as she entered, and following her into the studio was her husband, Javier Bardem. I had shot Javier before and we got on really well, so he wanted to come along to the shoot.
My idea for Penelope was a sexy, brooding shot, but Javier kept making comments to her in Spanish. I have no idea what he said, but every time he spoke her cheeks flushed and she burst into hysterical laughter. I took the chance to take some fun snaps, but when I wanted the brooding shots I made Javier stand outside like a naughty schoolboy – which actually made her laugh more. Eventually I got the shot I was after.