Annabel Kilner is the commercial director for Made.com, the brand that's championing luxury, affordable homeware and furniture design. Annabel spends her days surrounded by beautiful decor, and as one would expect, her eye for interior design is impeccable. Annabel was on the hunt for some artworks to put the finishing touches on her new flat in south London, so we put her in touch with our head curator Rebecca Gordon, who recommended some works to suit her space and style. We visited Annabel's flat for an interview and photo shoot to see the works in the flesh, and to quiz her on all things style and interior design. Discover what she loves most about working for Made.com and browse her favourite artworks on Rise Art.
Is interior design important to you and how does art feature?
Yes, home is a sanctuary. One's roots as well as the actual interiors are crucial to making it the best possible home. Every aspect plays its part, from the architecture, to the furniture, the wallpapers and the art. If anything, it's the details that really are defining.
What are your favourite design items that you have in your home?
Anything that's been made bespoke, particularly my Bryonie Porter desk that's covered in Cole and Son Hicks Grand, and my Neisha Crosland headboard in Zebra.
What are your sources of inspiration?
Interior designers and friends in the know, as well as the tonnes of imagery out there - particularly on Pinterest - that I used to design all of the joinery and lighting in my new flat.
How do you think the Interior and Design worlds have been changed by online shopping?
The choice and the inspiration is endless. For a non-professional, it's much easier to design your own space well without the need to hire someone now.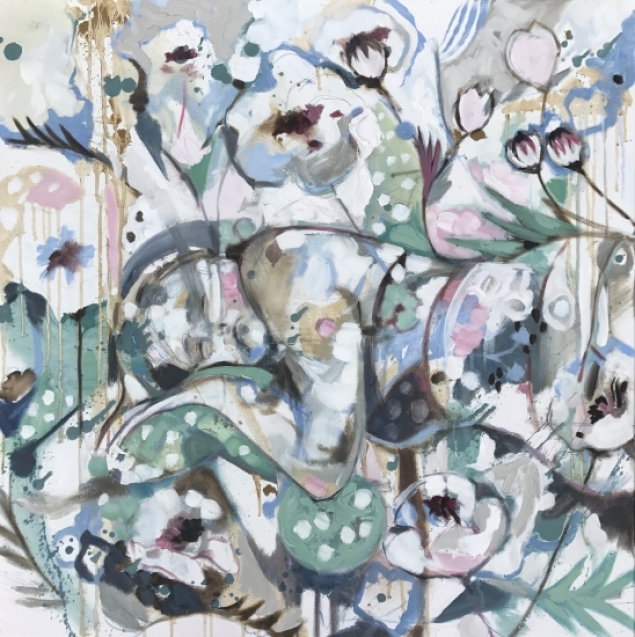 How do you bring creativity into your daily life?
On a daily basis? With flowers. My home always has them. Made.com also introduce around fifty new products into our collection every week and I'm constantly wanting to swap furniture in and out of my flat.
What type of art are you naturally drawn to?
I have a concerning number of nudes in my flat, by my talented girlfriend and by Lucie Bennett, who I discovered while I was at mydeco.com seven years ago. But I also love photography that captures moments, as well as flowers (of course), and nature. The David Hockney exhibition at the Tate Britain was top of the list to visit recently.
How did you find our 'talk to a curator' service?
Great. I had two specific spaces to fill in my flat, so I was looking for a pair. I was able to provide wall paint and joinery colours, as well as personal style, as a brief to Rise Art. They suggested Laura Cramer's work which I had already been eyeing up. Rise Art dealt with the delivery and framing, and I'm very happy with the choice I made and the service I was given, and I love the pieces of work.
Where is your favourite place to travel?
I don't have favourites, it's totally dependent on what I'm feeling in the mood for, and who I'm with. Africa is the continent I've visited the most however, and I enjoy its beautiful vast landscapes; Sri Lanka for its lush green tea plantations - which is a colour I love; India for it's colour and vibrancy, and any moment in the mountains - whether summer or winter - I find so restorative and would be very high up on the list.
What do you love most about working at MADE.COM and what is your favourite MADE product?
My favourite product today is the frame chair in blush cotton but it changes weekly!
I've been at Made.com for over five years now, and I totally believe in our mission to make great design affordable. We do this for so many people all over Europe, and I love that. We're obviously not the only interiors brand doing this, but we've accelerated a revolution here, and I feel proud to be a part of it.
Annabel's Top 5 Rise Art Picks
1 Pink Ranunculus, Paul Coghlin
2 Tree from Vik, Charlotte Adde