Stella Kapezanou's paintings bring together the everyday and the exotic. Capturing unsusupecting passers by on canvas, Stella depicts sunny, languid scenes that fill us with a nostalgia for human connection. Essentially, she finds beauty in the banal.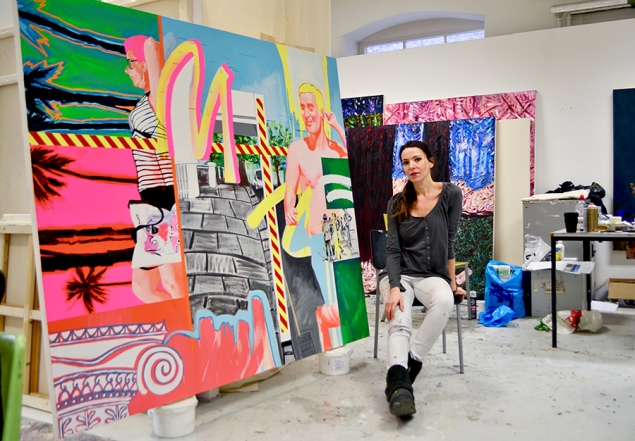 Stella has been recognised internationally for her artistic talent and originality. She has received countless scholarships to art schools in Athens, Munich and London, and last year the artist was awarded the Clyde & Co Emerging Star Award for the work she's produced over the course of her MA at the Chelsea College of Arts. At the beginning of this year, Stella was one of our 25 Rise Art Prize finalists from around the globe.
Athens-born Stella tells us all about her studios in Greece and London, and what being an artist means to her. Get a glimpse behind the scenes and discover her sanguine, figurative works.
Tell us about the artwork you make. What are the processes you use, and the concepts that lie behind it?
I'm curious about what we consider to be the "everyday" habits of groups of people living in capitalistic and material societies in some of the most developed countries of the Western world. I like to develop a critical approach to the beliefs of these societies. I want to capture the emotional state of people who seem disconnected from their surroundings, who look to be defined by their personality and not their soul. I also wish to capture the temporariness, decay and mortality of humans.
I usually take pictures myself with my camera, collect images from magazines that attract my eye, or use patterns from my childhood memories, such as my grandmother's bed sheets or tablecloths. I only focus on very particular parts of them, using imaginative elements along the same theme. I paint the details from memory, and when I begin to work on a blank canvas, I only have a vague idea of what I'm going to do. I add all of the extra elements during the process according to what I feel that the painting itself is asking me to add.
When did you know you wanted to be an artist?
Painting has been in my life ever since I can remember. When I was little, I would be painting with my crayons next to my mother, who was working with oil paint on canvases. I've never thought that I wanted to be an artist, I've just always felt that I am one.
What does being creative mean to you?
It means being independent. They say that being creative is not a hobby, it is a way of life. It does not necessarily mean being good at art, it means finding solutions to everyday problems and fixing them in a way that you never would have thought of before.
Tell us about your studio space - what do you love about it?
In my Athens studio, I love the sun shining through the windows until late afternoon. In my London one, I love the fact that I'm just a step away from great private views, openings and lectures on an almost daily basis.
Do you have a favourite or most meaningful piece?
I always fall in love with the piece I'm working on at the moment. I get excited, I think about it, I take pictures of its progress and look over them at night. And then I fall in love again with the next painting I begin to work on.
How has studying abroad influenced your practice?
I studied for a five year BA in Greece at the Athens School of Fine Arts, and then my MA in London at the Chelsea College of Arts. Both great colleges and very unlike each other. In Athens striving for excellence in skills and deep knowledge of art history were essential. In London, it's mostly about research and contextualisation of one's studio practice in relation to contemporary practice. I feel lucky that I have been exposed to so different disciplines.
What motivates you to make more work?
It's that intangible inner need that most makes me want to be more private, lock out the world and dig up my secrets.
Best advice you've ever been given as an artist?
"As you don't like everybody's work, don't expect that everybody would like your work" This advice, given by my BA professor Michalis Manousakis, set me free and I was able to let go of caring too much about what others think about my work.
What's playing in your studio right now?
I'm going through a "women of jazz" Spotify era.
Three artists you'd most like to host a dinner party for?
I'd love to host a "déjeuner sur l'herbe" for Edward Manet, my favourite old master; for Luc Tuymans, the most charming speaker; and the brilliant, always smiling, Jeff Koons.
Favourite inspirational quote?
"Learn the rules like a pro, so you can break them like an artist" by Pablo Picasso. That kept me going during many years of intense drawing practice.