KEF! is a household name in the street art world, instantly recognised for his meticulous abstract line paintings. This dynamic artist can work to any scale, so it's no wonder he's been commissioned internationally by the likes of Urban Outfitters and CoArt; give him a space of any size or shape and he'll transform it with his energetic geometric creations. KEF! has a huge (and growing) online following, and it's not surprising considering how devoted he is to his practice. He lives and breathes art, adding life to the forgotten and the abandoned through murals that have a deep spirituality and energy hidden between their lines.
KEF! is the second artist to feature in our #ModernMarketers series. We've been busy quizzing some of our top trending artists online to discover more about the inspirations behind their artwork, and how they sustain a thriving community of followers. KEF! is currently based in Berlin, painting every day and tagging the city with positive vibes. Hit up the Rise Art Instagram (@riseart_) today for his takeover, and read our 10 questions with the artist below.
Tell me about the work that you make.
My work is about harmony. I think the world is in a lot of disorder and the only way I can bring something positive to it is through my work. It's very important for me to paint spontaneously because that way I don't calculate too much and the process stays unconscious. From my subconscious comes much more energy and deeper feelings which are expressed through my paintings.
What's the best response you've ever had to an artwork?
When people tell me that my work affects them in a positive way; that they can feel the harmonious energy and feelings, that is the best response.
What's your social media medium of choice? Who do you follow?
At the moment Snapchat because it feels more mysterious that the pictures get deleted and disappear after 24 hours. But I use Instagram (@kefart) and Facebook (@kefart) as well.
I follow galleries, people I meet and artists who I find inspiring - 108, Moneyless, Retna and many more.
Do you like being able to share your work in this way? What are your top tips for a great profile?
It's a nice way to share new works with the outside world. A lot of people living in different places all around the world can see it instantaneously. My top tips: choose well what you share, and don't share too much!
What or where is your go-to for inspiration?
I love nature because it's full of positive energy and it's just perfect! It has complete balance and the highest aesthetic.
Where's your favourite place to travel to?
I'm going to China soon for my third time. I love it over there! The people, the landscape, the culture, the food...so many things which I enjoy a lot.
What do you love most about art & making art? What do you hate most about it?
For me it's great that I can create something visual which influences a lot of people in many ways. During the process I lose myself in the painting because it's my absolute passion! I wouldn't trade my ''job'' with any other job in the world. There is nothing to hate for me.
Where do you work? What's in your studio?
If I'm not travelling for projects, I'm producing in my studio in Berlin. Currently there are three shelves with all my paint materials and one chair, because I just moved there recently. But I always try to have as little as possible to keep my mind free.
What gets you out of bed in the morning? What puts you to sleep?
What gets me out of bed is being so happy to have a whole new day to be creative. I am thankful for every single day and try to use them in the best way I can before this life ends. A calm mind puts me to sleep.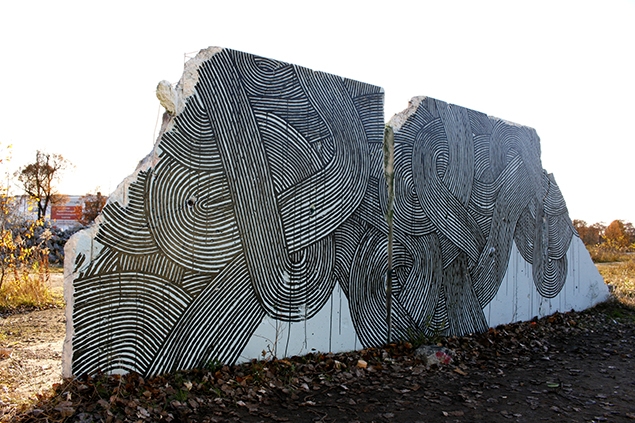 If you could have your artwork in any museum, collection, or building in the world, where would it be?
A building with an organic shape, very simple and clean looking. Inside it, harmonious lines everywhere, and somewhere that people could come in to, just to enjoy the relaxing atmosphere.