In an age where digital photography is the name of the game, and the development process has somewhat lost its charm, Eleanor Cunningham is a photographer with a difference. After graduating from an MA in Fine Art at Chelsea College of Art & Design, London in 2012, Eleanor has continued to build an impressive practice and create a stunning body of work based on ideologies around preservation, location and materiality. Her works imbue a life of their own, using unique process to make and manipulate the work with amazing visual effect. We sat down with Eleanor to find out more about how these works come into being, and what the dark room means to her.
When did you know you wanted to be an artist?
I have always been interested in art, for as long as I can remember. I found school a very unnatural environment and seemed to focus all my energy on practical subjects, mainly Art & Design. I discovered how art can help you escape from the everyday and the mundane. Its ability to transform the overlooked into something of interest and importance has always fascinated me. It has been more of a fixation to me than anything else. I prefer to explain and problem solve visually, and after graduating from art school I made sure to continue with my art practice, mostly because it keeps me sane! Plus, that feeling when someone wants to place a piece you have created in their home is so rewarding.
Can you tell us a bit more about how you make your work?
I start with photographing a location that I have previously researched. When I'm in the space I usually collect a piece of material (a bit like a piece of evidence found at a crime scene). Then I use this in post-production, adding it into the manipulation process. For example, in one series (Inflorescence) I did a photo study on a bouquet of flowers. After the shoot I collected the petals from these flowers and worked them into the final artwork.
I want to keep that aura of materiality within the piece, as it is becoming quite a rare element in an age of digital dependency. To create this manipulation effect, I experiment using different substances, which vary depending on the chosen subject matter. These can range widely, from paint, inks and water, to vinegar, salt and found materials. It can either be applied straight onto the negative or onto the developed print, or even during the development process. The main idea behind this is the 'happy mistake'. I feel it has become more common, especially in photography, to have full control of the process, and I miss that element of suspense and surprise when working with film.
You work a lot in the darkroom, what is it about this space that inspires you so much?
The darkroom helps me to focus and completely separate myself from the real world as it were. It forces me to concentrate on each image without any distractions, I believe this is a hard feeling to replicate when working with digital.
How long does it take to make a piece and when do you know when it's complete?
To be quite honest, it varies quite considerably. It can take a mere 2 hours, but sometimes a number of years. I keep coming back to a particular series which I am still not happy with, and I did the shoot back in 2010. It is all dependent on how this very experimental process turns out - I don't want the finished image to be too distorted, just at a state in which the subject is still recognizable.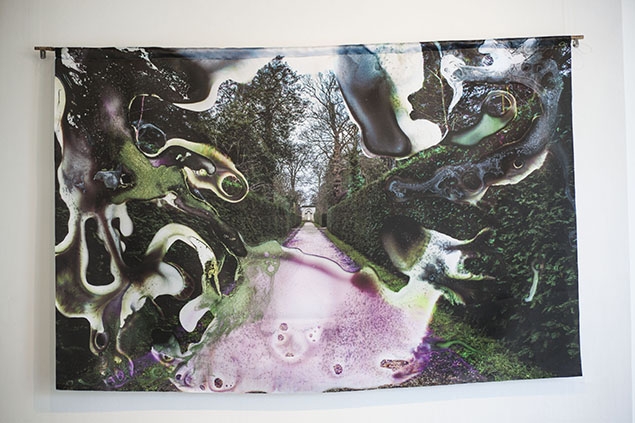 Where do you find the starting point for a new body of work?
I do a lot of research into monuments, traditions, ideologies and historical sites. I search for places and spaces that relate to the idea of preservation. Something that has become obsolete over time, which shares similarities with the darkroom - now considered a dated concept.
Favourite inspo quote?
"If you always do what you always did - you'll always get what you always got." Unknown