Michelle Loa Kum Cheung's painted pyrography artworks appear as windows onto the surreal; they are portals into imagined landscapes. Mountains, lakes, reflections, clouds & mist characterise these peaceful scenes.

Inspired by her own fragmented heritage and Chinese-Mauritian background, Michelle uses the therapeutic process of painting and pyrography to create these beautiful, disjointed scenes. We catch up with the artist to find out more about her process and what art means to her.
When Did You Realise You Wanted to Become an Artist?
I fell into art so long ago I would say that I was just born this way. I think as a child I especially liked activities using my hands and also being very aware and mindful of my surroundings, particularly in nature. As an adult, I've retained these characteristics, preferring traditional and tactile ways of making art...
... although I am very inspired not only by the natural environment but by new modes of consuming imagery from social media, to Google satellite imagery. Being an Australian artist with Chinese-Mauritian heritage, I am also becoming increasingly interested in my own cultural and temporal dislocation from my family's culture.
How Did You Discover the Technique of 'Pyrography' and What Do You Love About It?
After working with the subject of trees and then moving to working on wood as a surface, I wanted to explore combinations of different techniques and discovered pyrography. I love the variation in mark making, gradients and the transition between burning into a surface instead of building upon it with paint. It's a very tactile method that exploits the natural materiality of the wood as the ground.
Tell Us About Your Process and the Vision Behind It
Contrary to the "blank canvas", the visual aesthetic of the wood is extremely important to me even before starting. I like to work with the grain and colour of each panel, shaping the subject and form of the image. After many sketches in my diary, I usually start either with a large section of either pyrography or paint, to build the outline. I tend to use very fine brushes to create a more complex palette and to imitate the grain of the wood in some way and I feel this responds to the pyrography best.
I squeeze out about 20 different colours of oil paints, even if the main tone of the work is red – it's best to have as many options readily available as possible. At some point the separation of working between pyrography and painting disappears and each new burn or brushstroke informs the next step.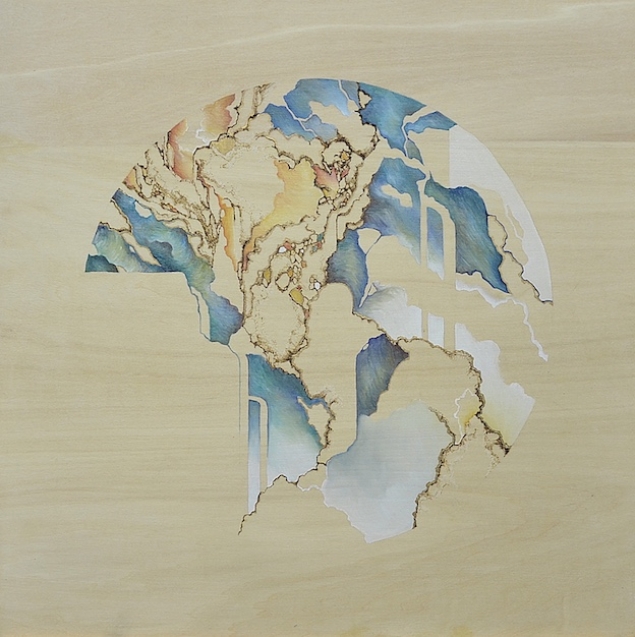 I also use gold leaf in a lot of my work, loose leaf and liquid leaf, both of which require at least a day between applications. Whilst I plan my works in a lot of detail prior to starting, as I actually make the artwork I try to be open to more organic shifts in the form but always have a sort of idea of how I imagine the finished product to look like.
Why the Circles?
My obsession with the circular form has flowed on naturally from my use of linear divisions within organic forms – in earlier works it was squares and rectangles. I think it is a subtle way of exerting some sort of control upon the uncontrollable, to signify our desire to tame nature and the unchangeable past, whether intentional or not.
How Would You Describe Your Art in Three Words?
Imaginative, nostalgic and delicate.
Explore paintings by other artists here. Discover more unique painters here.