Painter, poet and author Nick Malone recently hosted an exclusive studio visit evening in association with Rise Art. Inviting us into his studio, we heard all about his career as an artist, and the inspiration behind his various projects. I was fortunate enough to quiz the artist in a private moment before the guests and designers arrived...
You've completed a lot of commissions in the past, for interior degisners and corporate clients, what has been your most challenging piece so far?
I've completed a few commissions. A rather interesting one was for the RAC, who had a new sports centre. They had a long corridor without windows, leading to a squash court. The problem was thus: what can we do to make a windowless corridor as bright as possible? I ended up painting a canvas that was about 9 inches tall by 30 feet, with very vibrant colours and a sort of dot whizzing up and down, almost like a squash ball. Of course, it was still abstract. This is precisely why I like commissions, because you do things you'd never normally do!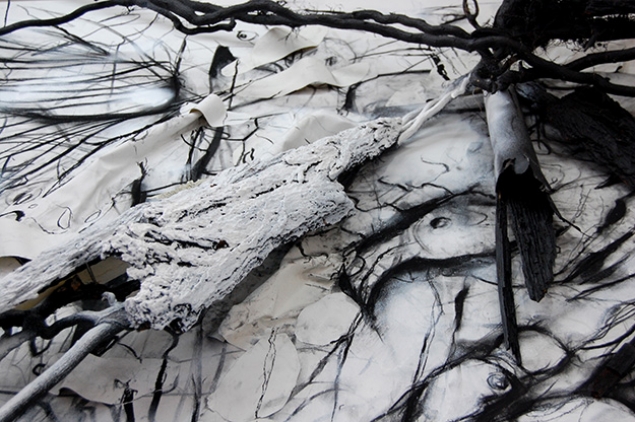 This is a beautiful studio. So much light! Do you also paint when you're at home?
Well yes, and what I'm starting to do is paint digitally actually. I prefer to be a little more tactile when I create, so I'm using a new app that lets me cut, paste and combine images. I'm currently working on a graphic novel, with the aim to publish it alongside an exhibition, possibly with a soundscape of my poetry. I previously had a studio in a place called Porthleven in Cornwall. They'd converted a fisherman's loft - the net lofts - into artist studios that overlooked the harbour. I did a lot of work there actually, it was a very productive time.
How did the idea for your graphic novel come about?
Well, I was chatting to another artist - Graham Crowley - who's the professor of painting at the Royal College of Art, about ways of moving forward. He suggested to me this idea of creating a graphic novel about my life. I just thought, actually, maybe that's not such a bad idea, so I started to write a timeline of my life.
Nick Malone in his studio

How did you transition from poetry to painting, does your work still cross between the two mediums?
The poetry of T.S Eliot has greatly inspired me, 'The Love Song of J. Alfred Prufroc' for example:
"Let us go then, you and I,

When the evening is spread out against the sky

Like a patient etherized upon a table;"

-T.S. Eliot
Who is the 'you' here? You think maybe it could be the reader, or it could be someone else in the room, but what I think it is, is himself. He's talking about the two sides of us. The 'I' - the public face - and the 'you' - the secret part. We all have an 'I' and a 'you'; we all have the public part and then we have the secret bit, which is sometimes forbidden, possibly criminal and not actually played out. I think that we all have this phenomenon, I know I do! It's something I often explore through my artwork. We negotiate the everyday world, we buy train tickets and do the laundry, but there is also this wonderful trapdoor that leads straight to the imagination!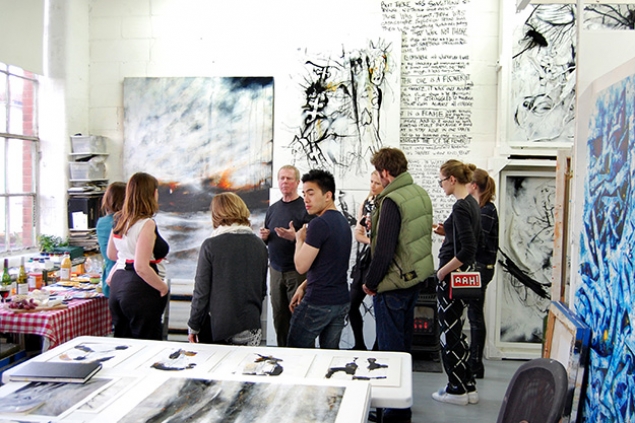 Viewing art within a gallery is inspiring enough as it is, but to see the studio of an established British artist, and hear first hand about the concepts and thoughts behind his projects was a privilige. It was an inspiring evening, and a great insight into the creativity of such a wonderfully dynamic artist. Thanks for having us Nick!
Want to see more of Nick Malone's paintings? Take a look at his portfolio!