Nadia works in acrylic on canvas, employing pallet knives and thick brushstrokes to create bold and energetic works that are inspired by the shifting landscapes she frequents. From London's glorious parkland - including Richmond Park and the Thames Riverside - to the stunning south coast shoreline, her pieces capture the tranquility of the English countryside.
Nadia has worked in a variety of creative roles, from TV production design to illustration and graphic design, but she never strays too far from her passion for painting. We got in touch with the artist to quiz her on what influences her work, and how she continues to find inspiration above and beyond the daily grind...

What's the most important thing to know about you?
I do not plan my paintings and sketch out my composition... Instead I just start painting and it develops organically. I work in short, passionate bursts of creativity, always needing to take a rest before I have another go! I strive to create aesthetic images that I would want to hang in my own home - however if there is something specific that someone wants from my art I am adaptable and can create almost anything.
How did you get into Art?
My dad Clive Dand is an amazing artist, producing stunning oils and watercolours of landscapes and nudes. Whilst other kids played, he used to make us draw and paint with sketchpads alongside him during the holidays. It was fun. He was a very dedicated artist, always experimenting in his trade, making him a wonderful role model for me to learn from.
Your Art in 3 words?
Bold; illustrative; atmospheric.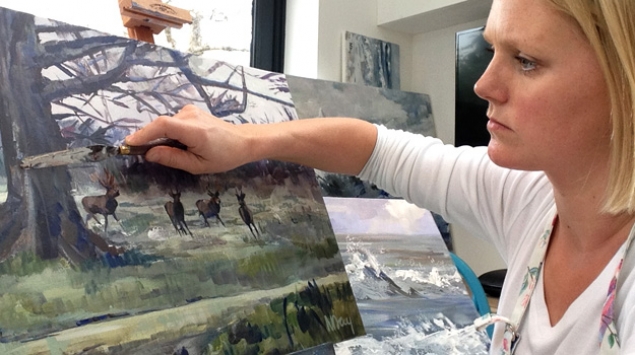 Do you ever suffer from "painter's block"? If so how do you begin again?
Yes! I need to clear a space, buy some new canvases and start by just experimenting and playing with paint - then my passion revs up again. If I get a commission in then I am all guns blazing and full of energy!
Who are your favourite artists?
David Hockney, and Johannes Vermeer.
How do you know when a work is completed?
Only when I've scanned the work and cannot see anything to fiddle with. I start messing a painting up if I fiddle too much - as it's really hard to go back into a background / foreground and tidy things up. I just try to be bold and get it right first time.
What kind of interior space do you imagine your paintings in?
A blank canvas hopefully - a white light kitchen extension or a moody dark cloakroom.
How long does it take to complete a piece?
Usually about a week or two.
3 main influences?
The beautiful parks I live near, interior design, and the sheer enjoyment of painting.
What kind of world are you trying to depict through your art?
England's calm, beautiful parkland and animals.
What advice would you give to someone just coming out of Art school?
There is a world of different trades out there. I worked in theatre design, TV design, advertising illustration, and graphic design all in order to earn money and live in London, whilst I painted on the side. As long as you are in a creative environment and are happy, your art will flourish, so don't panic and rush to get your dream job straight away... all work is work experience.
How do you employ the internet as a means of promoting yourself and your artwork? Do you use social media as a tool, or do you mostly keep your work organic and offline?
I am not naturally affiliated with social media and promoting my work... I prefer to spend the cherished time I have kids-free actually painting and experimenting with my work. However I do have a website www.sketchyday.co.uk where I upload my work.