To bring the new year in, in style, we thought we'd show you our favourite art work new to the site this month!
ROBERT BLOOMFIELD
Our Insider Adriana Marques says about Robert's work that:
"Bloomfield's epic landscapes are achingly simple. We have all been that tiny figure at one point or another, and his works brings that home, through images of loss, and hope, and love. These are sweet and beautiful - a humble image to wake up to every day."
Robert's accessible work is purposely like that. Bloomfield himself said that, "Everyone should have an original painting in their home."
CLAUDIO LARREA
Our South American Insider Enrique Mitjans says of Claudio's work:
"Claudio invites us to review our past, our history, the golden years of a city that wanted to be the South American Paris, when all architectonic styles converged in Buenos Aires, such as art nouveau, deco, rationalist, french, eclectic. And then the stories that those lobbies those buildings, those stairs or theatres, save as a silent witness."
An interesting fact about Claudio is that he began his career as an art director, and produced images for magazines such as Rolling Stone and Playboy.
Katherine Lubar
Originally from Dallas, Texas, Katherine Lubar has been based in London since 1993, obtaining a Post-Graduate Diploma from The City & Guilds of London Art School in 1999 and exhibiting in group and solo shows around the UK, Europe and the US.
Our Insider Adriana Marques says:
"The interplay between object and shadow in Lubar's work is striking and playful. These precise paintings, evocative of geometric prints with remnants of pop art, would make the perfect first buy for any emerging collectors, or bring joy and focus to larger minimal spaces."
Her work is included in the permanent collections of the Department of Education and Employment in the UK and The Museum of Geometric and MADI Art in the US.
Building site IV by Helen Shulkin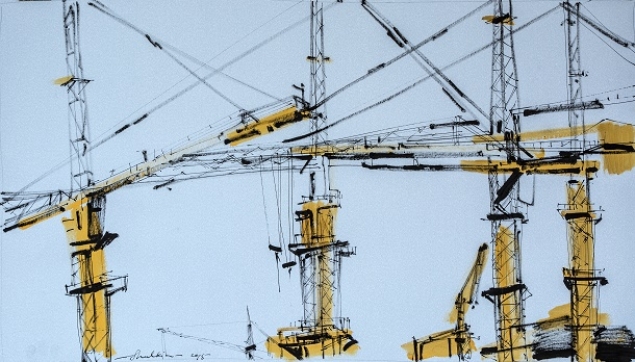 Our Insider Clive Jennings says of Helen's work that:
"Helen's experiments puts one in mind of the excitement and dynamism of the Futurists in Italy and the Vorticists in England. The combination of light and powerful industrial structures juxtaposed with the suggestion of speed and movement is a seductive mix."
Building Site IV is part of the Limpidity project: a body of work aiming to convey a state of clarity defined by light appearing to dissolve the observed object into pure light. Light is all that remains.
CYAN JEWELS by corinne Natel
Rise Art Insider Katherine Mellor says:
"Natal creates affordable work great for first time collectors. The combination of the abstract and the descriptive in these paintings is notable and creates interesting images. Her technique creates a painterly effect which makes the paint jump from the canvas. The works are perfect for bright interiors."
Corinne Natel has received multiple awards and has shown work at exhibitions throughout the UK.
All these works are available on our shop, so click
HERE
to take a look!