Alice Stallard is one of my favourite emerging young stars of the London art world, and I was lucky enough to talk to her recently in her Battersea studio on the eve of her new exhibition at the celebrated Chelsea Arts Club (founded by Whistler in 1891).
An artist, illustrator, (and keen snooker player),
Alice's
oeuvre blends a heady mix of sources which pack a decidedly Pop Art punch. Quite timely with the flurry of excitement around the upcoming Tate Modern exhibition "
The World Goes Pop
" (An EY Exhibition: opening on September 17 - 24 January 2016).
Alice Stallard
's new show is a new series of matchbox specials and limited edition prints titled: "ORIGINAL HOT STUFF & THE GOOD LUCK RODEO" - a great title, and very fitting.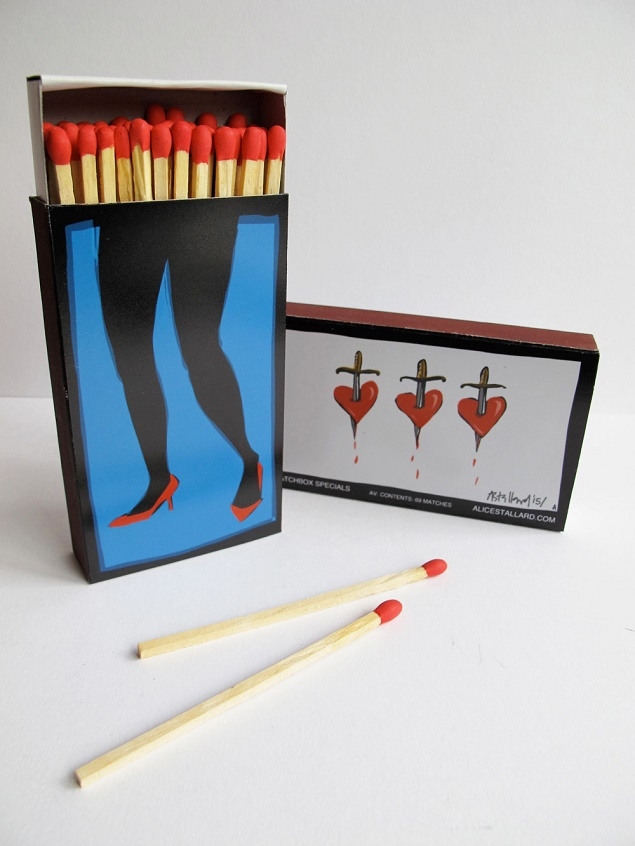 This new body of work continues Stallard's exploration of everyday charms and talismans through drawing, print and collage. Alice explains: "When you look at the object or image you can attach your own meaning to it. However they all have an autobiographical content. They all start from the heart". Alice gave me a tour of her Battersea studio, which is actually in a small house where she lives (with her partner Mat, who makes the sets for Big Brother). Sitting at her desk she showed me how she makes each matchbox by hand, painstakingly cutting and collaging - a real labour of love. Her inspiration is all around her - shelves full of weird toys and wood carvings, strange wood sculptures dotted around the floor - all picked up on her and Mat's many global travels. Inspiration also seems to come from pop music, Hollywood and other Pop Art ephemera.
By the side of her desk is a small file box full of clippings from magazines and newspapers of images which she might later use, or which inspire her. The Matchboxes bring together themes from music hall, wild animals from the jungle, (I love: "Howl: It's A Jungle Out There"). And "Legs Eleven" with it's bright blocks of Matissian blue background, black legs and very pop Judy Garland bright red shoes. Inside each box are long old fashioned red-tipped matches - very hard to find these days - which contribute to making these wonderful collectors items. My favourite prints are "Sail Away," a paper boat floating in a magical swirling blue sky dotted with more Matissian stars. And Alice's own special insignia (which is like a tattoo) of a heart and dagger: "Dagger Heart." And lastly, "Babe Sunbeam" a fun matchbox adorned with a high kicking glam Hollywood dancer.
This small but beautifully formed exhibition in a glass vitrine at the
Chelsea Arts Club is only on for 2 weeks (2 September - 12 September)
but soon you be be able to purchase the limited edition of the prints exclusively on Rise Art - and I do recommend you snap them up quickly!