Rise Art insiders give an overview of their favourite Frieze projects commissioned for this year's event.
Frieze Art Fair has traditionally commissioned talented architects to design and construct dynamic yet temporary tent structures to house the art each year. This year was no different. The long arc of a tent curving along the East River shore of Randall's Island is officially the longest tent in the world (as validated by its inclusion in the Guinnes Book of World Records).
No mere gimmick, this elegant sweeping stretch of a structure made for an excellent visitor experience. While it was a significant expanse of art exhibition space, it also felt intimate, and one had a sense of their place within the fair at all times.
Pia Camil
The Frieze Project that received the most press - whether because of its message, its form, or the fact that everyone loves a free souvenir - was the Mexico City-based artist Pia Camil who distributed free ponchos twice daily. The "habitable paintings" were proudly worn throughout the fair by the lucky (or very determined) fairgoers who waited hours in line to secure their bit of art fashion.
Aki Sasamoto
Aki Sasamoto's personality test was presented in the form of a choose-your-own-adventure maze within which you were presented with a series of decisions - were you a coffee or a tea person? What sort of underwear do you prefer? Where would you seat yourself when faced with a partially seated boardroom? - until you emerge from the maze with your diagnosis.
This Rise Art Insider emerged as a person who was "Into Candy." Draw what conslusions you will...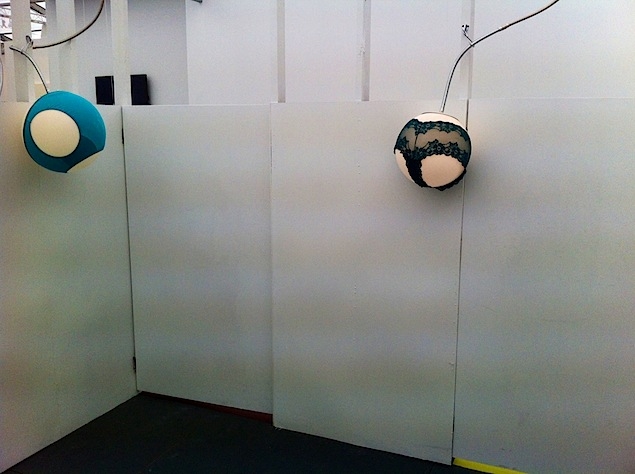 korakrit arunanondchai
Korakrit Arunanondchai installed a series of bleached-denim covered, super high-tech massage chairs throughout the space, so that visitors might lose themselves amidst their own personal immersive sensory space. The chairs were certainly appreciated after hours of art appreciation.
tribute to flux-labyrinth (1976/2015)
Another excited queue, waiting to explore the re-imagined, newly staged Flux-Labyrinth, orignially staged in 1976.
The Flux-Labyrinth consisted of 200 feet of absurd obstructions and "tactile obstacles" conceived by a selected group of contemporary artists.
as an added bonus...
And while not a Frieze Project, we would like to give special recognition to the stunning installation at Marian Goodman Gallery, who devoted their booth to Italian artist Giuseppe Penone's celebration of the natural form - in this particular collection, a celebration of trees and our relationship to them.
Bravo and thank you.
And there you have it.
The art was stunning, the experience fulfilling, and the ferry ride was a particular highlight.
Thanks Frieze!