Nick Malone is known for loving to cross art forms just to express his ideas in a clearer fashion. Despite having very abstract work, he believes that in their own way, due to the images raw form, they become their own version of realism.
1. WHATS THE MOST IMPORTANT THING TO KNOW ABOUT YOU?
I write, and cross, art forms, but my work is firmly rooted in visual dynamics.
2. HOW DID YOU GET INTO ART?
I knew from an early age that I wanted to be an artist but initially got diverted by creative writing, which I supported with an academic career. However, the need to become an artist become so compelling that I threw everything up and went to art college in my 30's. It was a rather scary thing to do at the time but I seem to have got away with it. I don't regret this now as a lot of my current work involves the interaction of text and images.
3. YOUR ART IN 3 WORDS?
Contextual Hybrid Abstraction
4. CHANNEL 4'S MADE IN CHELSEA RECENTLY FILMED AN EPISODE IN YOUR STUDIO. WHY WAS THIS AND HOW DID THIS COME ABOUT?
Well, I understand that they thought this studio and my kind of work would make a particularly good backdrop within the series. The studio is actually in Deptford and was previously a Victorian propeller foundry, but it has huge industrial windows and great height, and also has a mezzanine. They contacted me out of the blue. I'm not sure how they found me, but I think it was through the internet.
5. WHAT IS THE WEIRDEST RESPOSE YOU'VE EVER HAD TO A PIECE?
Given the number of weird people around, there have been surprisingly few. One woman pointed to one of my life drawings, and shouted "I've got a bottom like that!", although that was more funny than weird.
Rider I
Nick Malone
6. 'RIDER 1' IS QUITE DIFFERENT FROM YOUR PREVIOUS WORKS, IF ONLY IN COLOUR. ARE YOU TAKING A NEW DIRECTION?
Yes. I've always felt compelled to keep moving my work on but this is always within the context of building on, and relating to, work that has gone before. I find my paintings have a much more open and less hierarchic structure at the moment which allows a flow of ideas to take place, where people can take different routes across the surface of the painting.
7. WHAT KIND OF ROOM DO YOU IMAGINE YOUR ART IN?
A contemporary environment generally but I'd like to think that my art would fit anywhere given sufficient space. People who love art always seem to have an instinctive sense of where to place my paintings. I don't think you need to know a lot about art to love it. A lot of the bigger works have involved corporate sales but large paintings can sometimes look great and have real drama taking up an entire wall in someone's apartment.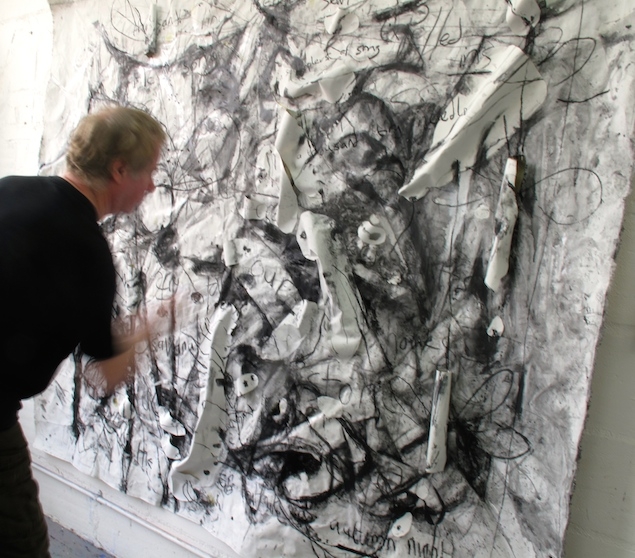 8. HOW LONG DOES IT TAKE TO COMPLETE A PIECE?
I'm often asked this and frequently I don't know the answer, partly because I normally have a number of painting on the go at the same time, and partly because they often need to evolve. With a lot of my work this results in a type of archaeology, perceptible on the picture plane, which has a depth and meaning that keeps reforming and dissolving. However some works can be completed very quickly. It's all a matter of how soon the issues they are dealing with can be resolved.
9. 3 MAIN INFLUENCES?
I consider Anselm Kiefer to be one of the greatest artists of the 20th century and this is because he engages with issues of real importance through a huge awareness of materiality and visual dynamics. For different reasons, I've been influenced by some of the American abstract expressionists, more for their ambition and methods rather than the work that they produced in itself. One particular influence has been the writer William Empson and his explorations of the role ambiguity in literature, something which I've transferred into painting in exploring issues of metamorphosis and dissolving and restructuring forms.
10. WHAT KIND OF WORLD ARE YOU TRYING TO DEPICT THROUGH YOUR ART?
Most of my work really engages with what might be called "a world of the other". What I mean by this is that instead of making a direct response to the immediate physical world in the way that some artist might depict say a still life, I prefer to move into areas where I feel a kind of alchemy can take place. My current work refers in different ways to inner fable with its own geography, challenging normal expectations of illusion and space with different surfaces. At the moment, I feel this way of working provides me with a magic workshop at that interchange of observation and dream where new kinds of painting can still be developed.
11. WHAT ADVICE WOULD YOU GIVE TO SOMEONE JUST COMING OUT OF ART SCHOOL?
Make a lifetime commitment to your art and realise therefore that it is going to evolve over time. Part of this process must therefore involve locating yourself in such a way that your art practice has space to grow behind the interface you develop with the everyday world.
12. HOW HAS THE INTERNET AFFECTED YOU IN TERMS OF GAINING VISIBILITY FOR YOUR WORK?
It's become very important, but this process has been enabled by my partner who is far more effective and knowing at social networking and the internet world than I am. I do think that the internet and digitisation generally is going to transform art beyond all recognition in the coming years. And I think paradoxically that this will work to the benefit of painting and of extending the established cannon.
Alternatively, take our ART STYLE QUIZ and BECOME A MEMBER. It's free and you'll get access to the best new art from top Museums, Galleries and Artists!