So Abigail, tell us about how you develop your ideas.
This November I have been given the opportunity to exhibit in the ASC Window Gallery Space. Painting on both canvas and sheets of clear perspex for this site specific painting installation I have continued to explore the way bright colour and image look on screen and the relationship between digital image and how it might be translated into paint.
I mostly paint from images which interest me on a visual level, looking and then imagining how I can emulate this through painting it. Usually I like to make collages with the photographs I save, often taking one thing out of its regular context and placing it in another, to be considered or looked at differently. Lately I've continued this collaging process into the way I exhibition finished paintings in a particular space. In one exhibition for instance I exhibited two of my explosion paintings as though they were exploding into one another, it was an exciting way to hang them and maybe even had some potential to be disorienting. In the end this affected my direction completely for the way that I would choose to collage and paint all the explosions I was working with at the time.
I was recently given the opportunity by ASC to use their Window Space Gallery and I wanted to make paintings which would respond to the space directly in the way that I exhibited them. Considering that the paintings I had chosen to show were based on photographs that were obscured because of the amount of light they had been exposed to, I wanted to use the glass somehow and the amount of light available. I chose to continue this series of paintings but on sheets of clear perspex which could be fitted directly into the window, creating a semi transparent layer in front of the paintings behind.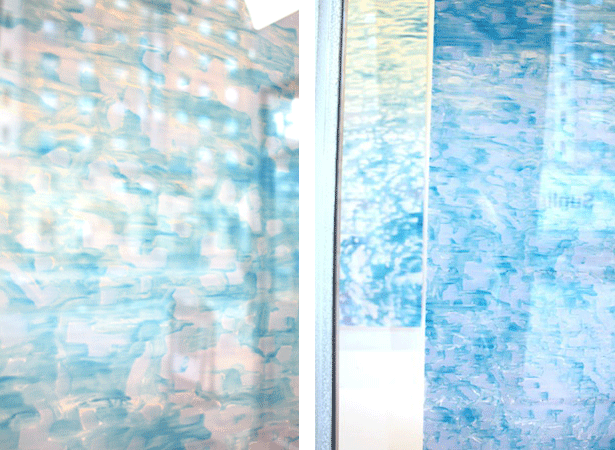 Details from one of the pieces painted onto perspex
One of the results has also been that the two perspex pieces now glow. The artificial light inside of the space shines through them from behind and is especially bright in the areas between the brush marks where there is no paint at all, an effect that I can't get simply painting on canvas. It is in the end like having been painted onto a gigantic photographic lightbox.
It's something for me to think about as much of my work is inspired by the way bright colour and image looks on screen and the relationship between digital image and how it might be translated into paint. I've wanted for a while to use overhead projectors in the way that I exhibit my paintings... so this might be something which helps me to put that plan into action.
L O U D L I G H T continues until 04 Dec 2013 at the ASC Window Space, Erland House, 128 Blackfriars Road, London, SE1 8EQ and you can view Abigail's full Rise Art Profile HERE