It's Bastille Day this Saturday, so we are looking across the Channel for some weekend inspiration. Here's our pick of the best ways to get into the French spirit and celebrate Le quatorze juillet.
Women on the 6th Floor at Institut français du Royaume-Uni
For a fitting way to spend Bastille day, The French Cultural Institute seems a natural place to start and this weekend they are screening Women on the 6th Floor (or Les Femmes du 6ème étage). Based in 1960s Paris and directed by Philippe Le Guay it sees a conservative couple's lives turned upside down by Spanish women working as maids in the same building. It has been described as delightful, witty and funny and achieved great success in France, so we highly recommend catching it this weekend if you can.
www.institut-francais.org.uk/
Bastille Festival at Bankside
Join in the Bastille festivities at London's Bankside, in particular, head down to Borough Market where there will be culinary demonstrations, wine tasting and quality produce from London's largest number of artisan producers and purveyors of French regional specialities, champagne and sparkling wine blind-tasting and a festival finale party where French traders will sustain revellers into the evening.
www.bastillefestival.co.uk
Ducksoup, Soho
For the best in unpretentious French fare, head down to Ducksoup on Soho's Dean Street. The recently-opened wine bar and restaurant is inspired by the neighbourhood restaurants of France and it promises simple, quality dishes matched with carefully selected wines. The menu and wine list are eclectic and seasonal, so no two visits are ever the same. We advise booking a table as it tends to get rather busy at the weekend.
www.ducksoupsoho.co.uk
Invisible: Art about the Unseen 1957-2012 at Hayward Gallery
The Hayward Gallery's new exhibition featuring 'invisible' art works has generated a huge amount of discussion, with some heralding it a triumph and others dismissing it as a 'fraud'. We reckon you should make up your own mind, and check out the French artist Yves Klein's 'Architecture of Air' while you're there.
http://www.southbankcentre.co.uk/
Eurostar, St. Pancras Station/Gare du Nord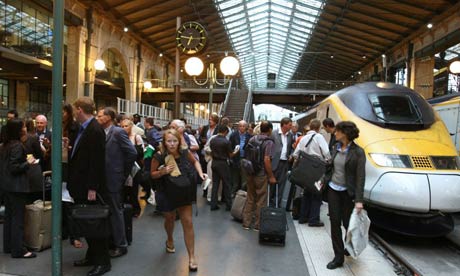 If all of this French culture has got you craving the real thing, why not jump on a Eurostar and join in the Bastille celebrations in the heart of Paris? With parties, a military parade down the Champs Elysees culminating in an aircraft flyover and a fireworks display at the Eiffel Tower all on the schedule, it will be weekend to remember. It's just over 2 hours from London St. Pancras to Gare du Nord, which gives you just enough time to flick through your phrase book, bon voyage!
www.eurostar.com