There's lots look forward to this weekend, including the long-awaited reopening of The Photographer's Gallery after a huge refurbishment project and an exhibition featuring Rise Art's own Alex March. Here's our pick of what not to miss.
Writing Britain: Wastelands to Wonderland at The British Library, London
Manuscript of The Canterbury Tales, Geoffrey Chaucer
The British Library's new exhibition 'Writing Britain' explores how the British landscape, both urban and rural has inspired some of the greatest literary works. Featuring writings by Virginia Woolf, JG Ballard, Geoffrey Chaucer, Lewis Carroll and William Blake, to name but a few, this show is a chance to see rare manuscripts, some that are being displayed in Britain for the first time. The exhibition aims to explore how the relationship between the our understanding of our surroundings and the representation of the British landscape in works of literature is a reciprocal one. This is a show for the bibliophile in all of us, and definitely one not to miss.
The British Library, 96 Euston Road, NW1 2DB
11 May - 25 September 2012
For further details see the Rise Art events page.
Burtynsky: OIL at The Photographer's Gallery, London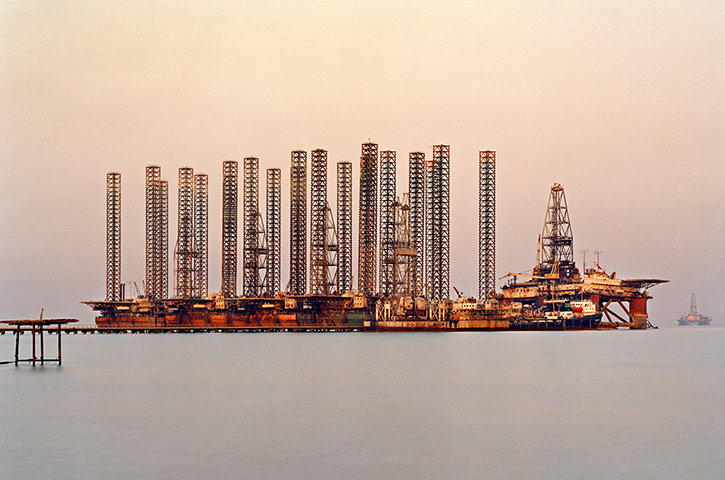 Socar Oil Fields #6, Baku, Azerbaijan (2006) by Edward Burtynsky
After a long period of closure for extensive refurbishment works, this month has seen The Photographer's Gallery finally reopen to the public. It's first offering is Edward Burtynsky's series 'OIL', which documents the physical manifestation of our reliance on oil. Burtynsky focuses his lense on not only the extraction processes, but landscapes that have been ravaged in the hunt for further resources, as well as cities that will grind to a halt as supply dwindles. This series of work is striking in its sense of foreboding, forcing the viewer to confront our reliance on oil as a vital resource and the chaos into which the urban world will be thrown as costs continue to rise and supply continues to be drained at such an alarming rate. This is a strong show for the reopening of the The Photographer's gallery, and we highly recommend it.
The Photographer's Gallery, 16 - 18 Ramillies Street, W1F 7LW
19 May - 01 July 2012
For further details see the Rise Arts events page.
Alex March - What Remains at The China Shop Gallery, Oxford
This Saturday see's Alex March's solo show opening at The China Shop Gallery in Oxford. Continuing her work on the themes of family, memories and the archive March presents images from found photographs from which see has peeled and removed identifying features to create an image that is both familiar and unfamiliar. We are confronted by the relationship between reality and photographic representation, mediated through the contents of a family album. What Remains showing until the end of June and we think it is well worth a visit.
The China Shop Gallery, 37a St Mary's Road, Oxford, OX4 1PY
26 May - 30 June 2012
For further details see the Rise Arts events page or Alex's March's Rise Art profile.
Diamond Geezer at WW Gallery, London
A Taste of Honey (2008) by Cathy Lomax
As the country gears up to celebrate the Diamond Jubilee WW gallery presents a tongue-in-cheek look at the imagery associated with regal celebrations and the reign of our very own Queen Elizabeth II. Investigating the unique relationship between the British and our monarchy, spanning bold opposition to warm nostalgia, Diamond Geezer is an exploration of the 'guilty pleasures' of Jubilee celebrations and royal memorabilia. Featuring the work of Cathy Lomax, Alex Michon, Dick Jewell, Sadie Hennessy, Boa Swindler, Siobhan Barr, Imogen Welch, Paul Kindersley, Enzo Marra, Deb Covell, Lisa Muten, Alli Sharma, Matt Day, Sardine & Tobleroni, Wendy Elia, Kate Murdoch and Chiara Williams, here at Rise Art we think Diamond Geezer is the perfect way to kick off the Jubilee celebrations.
WW Gallery, 34-35 Hatton Garden, London, EC1N 8DX
16 May - 09 June 2012
For further details see the Rise Art events page.