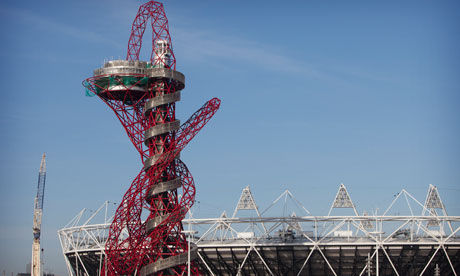 View of AecelorMittal Orbit designed by Anish Kapooe and Cecil Bamond
ArcelorMittal Orbit, designed in collaboration by Anish Kapoor and Cecil Bamond, stands at an impressive 115 metres tall and can be seen from 10 miles away. Situated in the Olympic Park in Stratford it will serve as an observation tower and allow visitors a breathtaking view of the London skyline and the olympic site in its entirety. Unveiled to press today, the structure is the tallest sculpture in Britain and is 22 metres taller than the Statue of Liberty. Kapoor has described the work as a 'deconstruction of a tower' and explained that he wanted to create the feeling of instability and constant movement. With 77 days left until the official start of the London Olympic Games, the reveal of Kapoor's record-breaking work is a milestone in the construction of the Olympic Park.
The striking image of the Orbit is sure to inspire many critiques and artistic responses. Here at Rise Art, painter Kate Bowen has been documenting the redefining of the landscape of the olympic site throughout it's construction.

Orbit Tower construction over Stadium by Kate Bowen

Bowen's oil paintings are intensely observational and yet she manages to capture the movement of the constantly evolving Stratford site. In both of these images, Kapoor's scarlet tower stands out against a more organic palette.

Olympic Stadium and Orbit Tower by Kate Bowen

For more information of Kate Bowen's work, see her Rise Art Profile.

The Orbit opens on 28 July to Olympic ticket holders, with tickets available to the general public after the games.