Forget standard figurative pieces - Sarah Harvey is an artist who dives deeper and adopts a unique, underwater viewpoint. Her paintings of women submerged in water are an intriguing exploration of the human form, bringing up questions of identity, sexuality and insecurity. We're all familiar with unusual sensory experiences of being underwater, whether that's gazing up through a rippled surface or watching how the light dances across the walls of a pool, and Harvey manages to capture these sensations perfectly. Take a look at some of Sarah Harvey's Paintings, or continue your art collecting journey by browsing our wider range of Paintings or Figurative Art.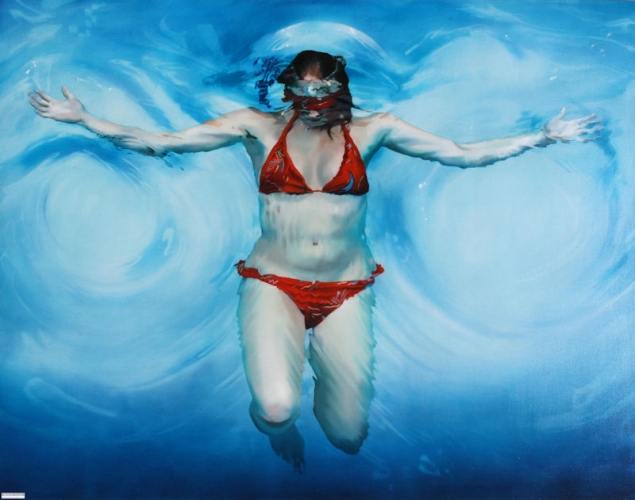 About the Artist
Sarah is a London born artist who trained at Chelsea School of Art and Newcastle University. Her fascination for the world that lies beneath the surface was sparked by a trip to Tuscany, where she happened across a green swimming pool that has influenced much of her work since. She has exhibited her work widely in the UK as well as further afield in countries such as Singapore, the US, Greece and Australia. She's no stranger to press either, with features in newspapers and magazines such as Time Out.
Movement as Emotion
There's a certain sense of joy in Sarah Harvey's figurative art; and I can't help but think of childhood visits to the pool or beach as I peer through her underwater lens. Her figures embody a feeling of movement, which is only intensified by the rippling water that surrounds them. However, as body parts become distorted and take on unusual shapes and forms, the viewer is invited to consider more profound ideas. While these paintings at first appear to be playful underwater adventures, her unique perspectives allow Sarah to address more interesting questions. There's also an underlying insecurity to these images, created by air bubbles forming around the subject's mouth or by the distortion of their limbs. Although water offers us a chance to enjoy ourselves and have fun, there's also an inherent feeling of danger as we plunge beneath the surface. Sarah Harvey's art captures this dichotomy expertly, and what at first appears to be frolicking movement might also be considered as flailing. See for yourself and check out Losing Control, a painting where the subject appears engulfed by the swirls of water and shadow that surround her. The movement in this painting appears anxious and frantic, and it appears as if she may be swallowed up by the swirl that dominates the centre of the canvas.
Female Figures
Another primary concern of Sarah Harvey's underwater paintings is the human form, and in particular the female form. There's a beautiful balance between the figures and their surroundings, as the movements of the water and the effects of the light create patterns that are equally as interesting as the subjects themselves. The water also places a barrier between the viewer and the subject. In a way, she is isolated in the body of water, and it is impossible for the viewer to fully understand and perceive her, evoking a feeling of mystery and intrigue. Her figures may be shown in partial or ambiguous nudity, and it feels as though the subject is unaware and unconcerned with who may be watching, allowing her to own her body and sexuality completely. This is exemplified in her painting Virtuous Desire, where the female subject appears to be looking down towards herself, paying no attention to the viewer of the artwork.
Capturing Light
The main subject of Sarah Harvey's figurative paintings is undeniably the female figures that dominate the canvas. However, there's a second subject that ripples throughout all corners of the painting: light. Capturing the imaginations of artists for centuries, light is a perennial yet elusive subject that pops up in all kinds of media and art movements. In Harvey's work, light takes on a new dimension as it is distorted through the surface of the water, sparkling throughout the artwork. The interplay between the human form and light is one of the things that makes these pieces so special. Light serves to highlight certain areas of the figure, while darker areas provide an effective contrast, obscuring the subject and adding to the painting's sense of mystery. The technical skill involved in this is impressive – just take a look at Falling Pleasure, where light dances across the thighs of the subject with astounding realism.
Whether you're just beginning your art journey or have been picking up pieces for years, Sarah Harvey's body of work can offer something to all kinds of collectors. These paintings offer a chance to immerse yourself in an underwater world and examine the human form from a unique perspective. Discover for yourself and explore Sarah Harvey's work, take a look at her Instagram or browse our wider range of Paintings.