Paresh Nrshinga
From early childhood, Nrshinga was already absorbing colours, movements and sounds, transforming them into expressions and motions onto his sketchbooks.His travels around the world combined with his deep spirituality influence his unique paintings, which are masterpieces of original and exceptional talent. Inspired by artists such as Pollock, Warhol, Klimt and Picasso, Nrshinga's paintings…Show more reflect his flirtation with abstract expressionism.

Nrshinga has exhibited widely in galleries in France, Italy and across the UK. The young artist's work now features in many valuable private and corporate collections worldwide, on TV and cinema industry. He has worked together with established and prestigious brands such as Bang & Olufsen and has very successfully exhibited in London, New York, Dubai, Paris and Italy. One of his most recent clients and collectors includes Queen of Abu Dhabi.

The artist is based in Radlett, Hertfordshire.Show less
"Nrshinga's works instantly draw the viewer in through their use of colour and carefully constructed compositions. He creates paintings that are profoundly spiritual and evocative at the same time. Nrshinga draws a lot of his inspiration from music mirroring its fluidity and expression in his loose application of paint and meditative work process."
Nat Rubinstein - Rise Art Curator
Artworks by Paresh Nrshinga

Stay in touch!
Follow me for latest updates and offers - Stay in Touch!
Paresh Nrshinga is featured in
The Art-Isms
Out of the Studio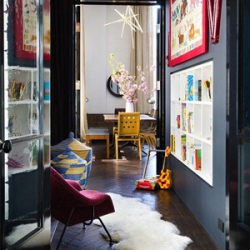 Out of the Studio