Mark Beattie
Mark Beattie MRBS is an emerging sculptor who lives and works in London. Working with various metals in all their contrasting properties of texture and finish, Mark can make industrial metal appear fluid, malleable and delicate. Over the past 2 years Mark has been developing ways in which neon or LEDs can complement his sculptures, adding movement to a piece and catching the viewer's eye.
In…Show more 2015, Mark won the Midlands Open, Xerxes Sculpture Prize and was elected a member of The Royal British Society of Sculptors (MRBS). In 2017 Mark was shortlisted for the Open Contemporary Young Artist Award run by the Biscuit Factory gallery in Newcastle, Shortlisted for the Rise Art Prize and long-listed for The Secret Art Prize by Curious Duke Gallery in London.
Mark has a strong academic background in art, having studied a BA Hons (International) in Contemporary Art Practice at Leeds University and more recently an MA in European Arts Practice at Kingston University, Surrey.Show less
"Mark Beattie is definitely an up and coming sculptor to watch. His ability to manipulate industrial materials such as copper and make them appear fluid, malleable and even delicate is no easy feat. I particularly like his new 'neon' series where he has cleverly hidden the wires which are so often left on view in neon work. "
Rebecca Gordon - Rise Art Curator
Follow Me
Follow me to keep up to date with new works!
Mark Beattie is featured in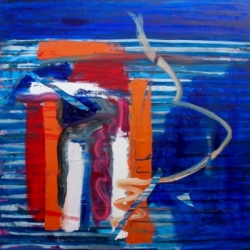 Out of the Studio