Dan Baldwin
Dan Baldwin's busy prints are a clash of colour and symbol. The Manchester-born artist draws on pop art and collage as well as the older Dutch-style painting of the seventeenth century. Motifs like the flower, the skull, the bird and rotting fruit were recognisable symbols of life, death and…Show more mortality in their day. What Dan aims to do is revitalise these symbols for a contemporary audience. We love the hyper-modern look that the artist achieves through his layers of paint and multimedia.

Dan trained at Eastbourne College of Art, continuing his studies thereafter at Kent Institute of Art. Over the course of his career, Dan has exhibited a number of sold-out solo shows in London and the US. In 2008, Dan's 'Apocalypse Wow – The End of Everything' sold at Bonhams for over £25, 000.

The artist's work is in the permanent collections of The Groucho Club and Café Royal. Individual collectors of his work include Sir Ronald Cohen, Bernie Ecclestone and Damien Hirst. Dan is also known for his collaborations with Max Factor, Sara Berman and Paolo Nutini.Show less
"Amidst the edgy brushstrokes, jagged lines and sinister or surreal themes, symbolism proliferates in UK Artist Dan Baldwin's work. His work has won the admiration of serious collectors worldwide, and his work is in the permanent collection of Cafe Royal and The Groucho Club. His works often involve glaze, diamond dust and collage add vibrancy and texture. "
Anthony Fawcett - Rise Art Curator
Stay in Touch with Dan!
"Follow Dan to receive first access to new works for sale and the latest updates on events and activities."
Dan Baldwin is featured in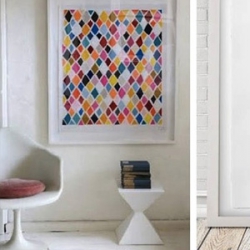 Out of the Studio
Inside Scoop
Out of the Studio
Out of the Studio