Anna Marrow
Anna Marrow is a British printmaker based in Bristol who creates bold, colourful works that blend urban and natural elements. Beautiful birds hover over tower blocks and fly around electrical appliances. We love Anna's humorous touch - playful details give her prints a fun and characterful quality. They're also highly decorative and beautiful to look at!

The artist trained at Central Saint…Show more Martins, specialising in Printmaking. She now works from the Spike Island print studios in Bristol.

Anna has been commissioned by an impressive range of clients, including The Guardian and Selfridges, as well as record label companies like Polydor and Go Beat.Show less
"Anna's works are beautiful, striking and incredibly desirable. Her clear compositions combined with delicate and playful details make these wonderful works to own and treasure."
Adriana Marques - Rise Art Curator
Stay in Touch with Anna!
"Follow Anna to receive first access to new works for sale and the latest updates on events and activities."
Anna Marrow is featured in
The Art-Isms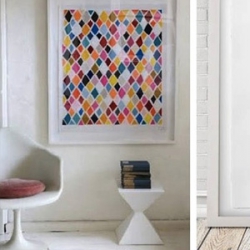 Out of the Studio