Trending Right Now
Viva Europa | A Selection of Our Top European Artists
Beat the Brexit Blues and celebrate ten of our favourite European artists at Rise Art. Some hail from the sunny climes of Greece and Spain, while others have their roots in the Hygge-loving Nordic regions. Each of these artists brings something unique to Rise Art, and we're excited that they're able to share with us the visual flavours and tastes of the Continent. Find the feature on the blog.
Out and About with Rise Art
Wimbledon Open Studios | Harriet Hoult & Aisling Drennan
This past weekend our Artist Champion, Izzy Proby, headed over to the Wimbledon Open Studios to catch up with our amazing Wimbledon Studios artists, Harriet and Aisling. Both are producing outstanding work and we encourage Rise Art followers to keep up to date with these talented young ladies.
Rise Art News
Workshop with Kristjana S Williams at Harrods
Get those creative juices flowing with the fabulous Kristjana S Williams, who will be holding mask-making workshops at her pop-up in Harrods on 19 and 20 May. The event is absolutely free, so channel that inner artist and get involved.
On a Roll | Stella Kapezanou
Stella is on fire! It seems nobody can get enough of her funky and vibrant contemporary paintings. To add to the list of her many accomplishments, the artist has been shortlisted for the 2017 Ruth Borchard Self-Portrait Prize as well as the Chiara Williams Contemporary Art 2017 SOLO Award. An exhibition for the former opened yesterday at Piano Nobile, King's Place and an exhibition of the ten finalists for the SOLO Award, including Stella, will be opening on 31 May.
ArtSlant Winner | Michelle Hold
We are pleased to share the news that Michelle has won an ArtSlant Award for her extraordinary abstract painting called 'Touched By Water'. Find the winning painting available for purchase here at Rise Art. Plus we have many more of Michelle's beautiful artworks to choose from…
Oxfordshire Artweeks Festival | Helen J Young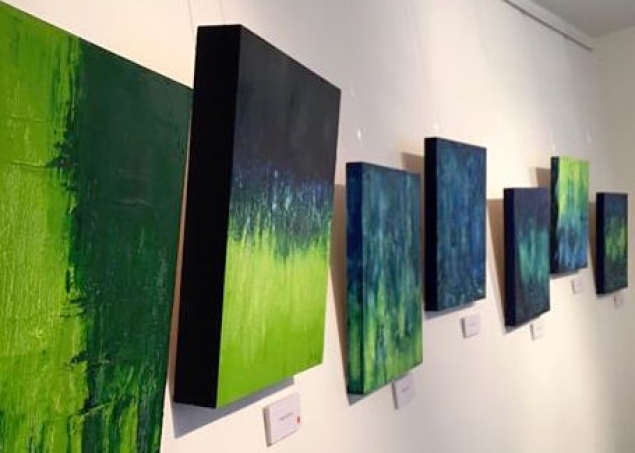 Our very own Helen J Young has just exhibited her magnificent paintings as part of the Oxfordshire Artweeks open studios. If you missed the show, keep up to date with Helen's latest activities and take a look at her abstract works here.
Paradise at Nelly Duff | Dave White
Next week sees the opening of Dave's new show, 'Paradise', at Nelly Duff. The artist's dynamic wildlife works are unmistakable and, quite frankly, irresistible! Take a look at his impressive collection on Rise Art here. The exhibition will run from 25 May to 4 June.
Art World Happenings
Photo London | Somerset House
2017 marks the third year of Photo London, one of the biggest photography events on the arts calendar. Leading galleries from around the world exhibit the brightest and best photographers from every region. Escape the rain this weekend and head to Somerset House for the exceptional show.
Mamma Mia! | Canaletto & Art of Venice at The Queen's Gallery
Today an exciting exhibition opens at The Queen's Gallery at Buckingham Palace. Lose yourself in 18th Century Venice and get up close and personal to spectacular works by Canaletto, Sebastiano and Marco Ricci, Francesco Zuccarelli, Rosalba Carriera, Pietro Longhi and Giovanni Battista Piazzetta. We recommend grabbing a slice of pizza on your way home to round off the outing.