This week we chat to artist Héloïse Delègue who incorporates autobiographical elements into her abstract compositions, and is described as "one to watch" by curator Rebecca Wilson
"Heloise's colourful abstracts tease with hints of faraway landscapes. Both delicate and textured, they make bold, beautiful statements. They would be a perfect start to a collection."
Who are you and what do you do?
My name is Héloïse. I'm 29 and I'm an artist and existentialist.
Why art?
I feel compelled to create and make things all the time. It's a need more than something that I want.
What is an interesting fact about you?
I'm a mass of contradictions.
How did you get into art? Is it necessary to go to art school?
I'm unsure about how I fell into the journey of Art, but the process of the journey also took me to art school - which helped me to formulate and concretise my ideas.
How would you describe your artwork in 3 words?
The future generations (George Bernard Shaw).
What are your favourite materials to use - or produced results that surprised you?
I love experimenting with acrylic on paper and canvas and also with modeling clay and found objects.
On average, how long does it take to complete a piece?
It usually takes from a week to a month depending on the piece…
Who are your 3 favourite artists or influencers?
Francis Bacon, Wassily Kandinsky, Nikki de Saint Phalle.
What type of setting do you visualise your work in?
The work usually finds its own settings.
What memorable responses have you had to your work?
Someone purchasing my work is the best response I've ever had.
Who would be your ideal client to commission a piece?
I would like to be commissionned by Björk and her record label to create the scenography for a video clip.
What is your dream project?
A dream! Well, to have a retrospective at the Pompidou Centre ;)
What's the best piece of advice you've been given?
The signature of the artist must be just beneath the paint.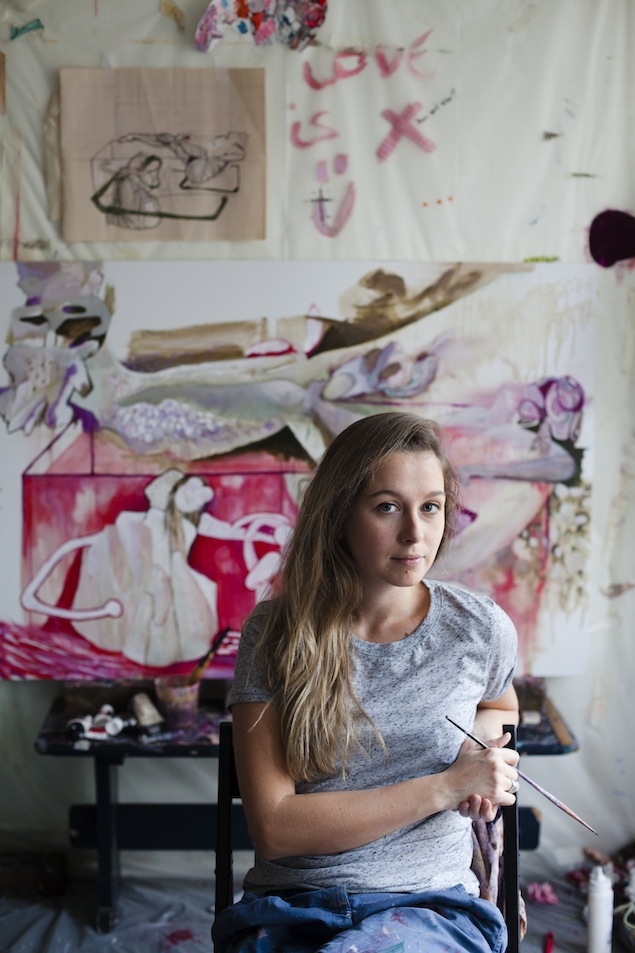 If you could own one work of art from Rise Art what would it be?
'Tick it, Tock kit, Turn it True' by David Hockney.
Click here to see more artworks from Héloïse Delègue.