1. How would you describe your practice in 3 words?
Pure, Abstract, Geometric. There is nothing else to be said about that. It is very strict.
2. How did you get into the art world?
I was obviously drawing and painting since my childhood but when I moved to New York, I started going round the galleries and showing my work.
3. Personal favourite of your work?
I like my paintings to be complex, I enjoy inter-folding and plaiting. Perhaps December 2008 is one of my favourites.
4. Major influences?
Joseph Albers, Bridget Riley and the 1963 MoMA show 'The Responsive Eye': Bridget's piece was then on the cover of the catalogue accompanying that show. Since I attended the show I have only produced geometric work.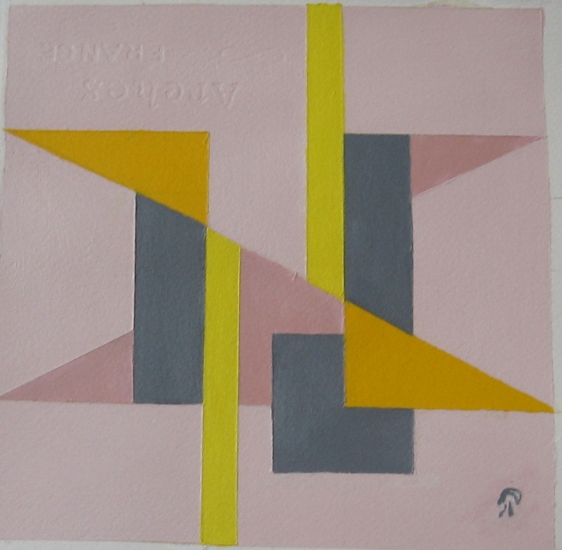 5. Favourite Art Gallery in the world?
Louvre, of course! How original! I love especially their Italian Renaissance collection. And in terms of modern and contemporary art, definitely TATE Modern. I enjoyed getting behind the scenes there when shooting BBC commented tour of the Yayoi Kusama show with the brilliant Alastair Sooke.
6. The importance of 'flatness' if your art process?
The flatness and the matt quality of the surface of my paintings are truly important to me. That's what I really appreciate in terms of geometric acrylic paintings in general - no brushstrokes and precise hard edges are the must.
7. Current project?
My work is currently exhibited as part of the summer group show at
Sandra Higgins'
Gallery Petit in Chelsea. My dealer, Sandra, also co-curated an exciting show at the Piper Gallery several months ago, where my work was displayed alongside the best artists from the 70s such as
Barrie Cook,
Graham Boyd
and Alice Sielle among others. New Possibilities: Abstract Paintings from the Seventies was a fantastic show and I was very proud to be able to exhibit alongside artists who I admire, especially Barrie Cook. I am at the moment painting every single afternoon as preparing for the next show in Paris. On a more personal note, I came to London to also meet my grandson Frankie Poullain - the bass player for rock band The Darkness that has accompanied Lady Gaga on her UK tour. I think me and Frankie have a lot in common: he does hard rock, I paint hard edge.
8. You've had a colourful career; what with exhibiting widely throughout Paris and New York, participating in the BBC commented tour of the Yayoi Kusama show and your recent exhibition at The Piper Gallery, what's been the highlight so far?
As for any other artist, the solo shows are the highlights of one's artistic career. So I would say my New York, Dublin and Paris solo shows. My show at Grace Teshima Gallery in Paris' Montmartre attracted an enormous amount of people and I also had a really successful show in Chateau Blavou in Normandy.
9. It's been said that you work shows influences of both East and West. Can you elaborate on this?
My husband was a French United Nations official whom I met while acting as a guide at the UN. He was sent to Korea where I then studied art with Korean painter, Lee Se Duk, who later became curator of the Sonje Museum of Contemporary Art in Seoul, and he introduced me to abstract painting. I suppose that's where the hard edge comes from - I greatly appreciate the Japanese wood block prints aesthetics. The major Western influence was 'The Responsive Eye' show at MoMA.
10. Would you say that your early background in drama is reflected in your art?
I graduated from the Royal Academy of Dramatic Art and my first job in theatre was in Dundee, Scotland, where I spent some time as an assistant to the well-known scenic artist, Kathleen Ankers. Kathleen later went to work for Laurence Olivier and Old Vic and we also briefly worked together in New York where we were painting a large Toulouse-Lautrec scenery for the Bloomingdales store. Funnily enough, respective pieces of scenery are called flats and I suppose that's where the flatness comes from...and also the hard edges - in terms of theatrical scenery, the depth is created by painting with hard edges. I still like this sort of trickery, playing with and fooling the eye.